System EPSILON+ for the measurement of dielectric fluid properties (Conductivity, Permittivity, DDF)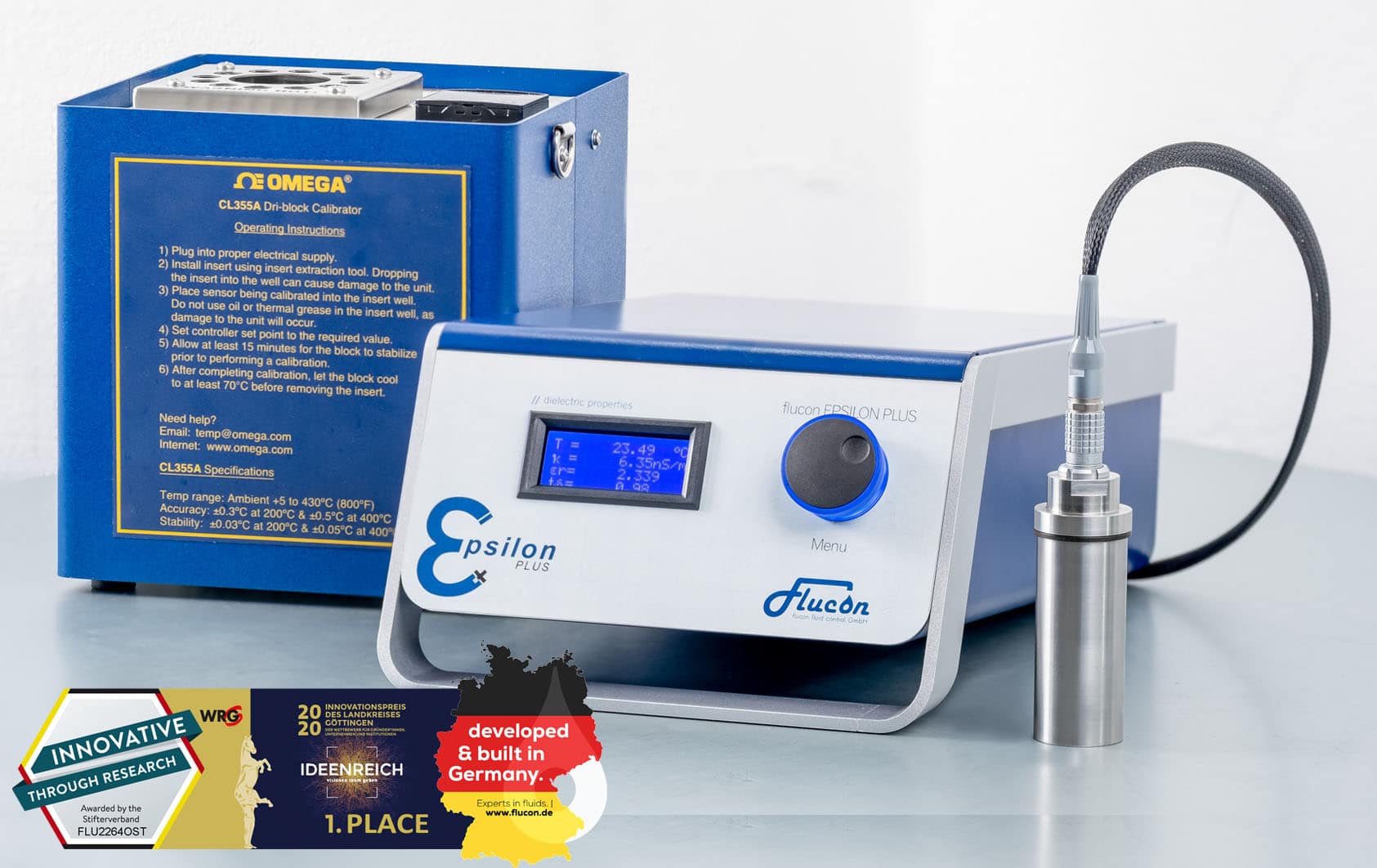 New Challenges in the field of fluid research and electric driveline development
Due to the advancing electro and hybrid mobility, lubricants and operating liquids need to meet new requirements regarding their dielectric properties. Modern synthetic or gear oils are not perfect isolators – even most of the oils used for the classic combustion engine are already characterized by a minimum level of electrical conductivity. This helps to decrease tension once overvoltages occur which are for example caused by static charging within gears.
Electric drives are now literally creating a new field of tension for oils. In the presence of high voltages and high frequencies, knowledge of the complex fluid impedance is useful in order to assess the performance of the respective fluid.
In addition to e-mobility, there are numerous other application areas for the EPSILON+, e.g. the examination of rolling bearing greases. The knowledge of dielectric characteristics such as the relative permittivity or the dissipation factor tan δ is also relevant for the development and operation of transformers and large-scale electro-technical applications in which oils are for example used as a coolant.
With EPSILON+ flucon presents a powerful measuring system for capturing the essential dielectric parameters of fluids.
flucon's latest innovation:
EPSILON+ Dielectricity Meter
EPSILON+ is a compact laboratory measuring device that is used for the precise measurement of the complex fluid impedance, based on DIN IEC 60247 (own DIN test standard coming soon). This reliable system determines the following parameters:
 Specific Electrical Conductivity
 Relative Permittivity / Dielectric Constant  

ε r

 Dielectric Dissipation Factor (DDF) tan δ
EPSILON+  //  Measurement
EPSILON+ is characterized by its operator convenience. Less than 10 ml fluid quantity are sufficient for the measurement set-up of the screw-in sensor. The sample is filled into the supplied stainless steel container and heated up to the desired test temperature by means of a thermostat (optionally available). Automatic measurement can be conducted as well within a desired temperature range, with increments of your choice.
EPSILON+  //  Features
 determination of the complex fluid impedance
 only small samples required (8 ml)
 high accuracy and repeatability
 wear-free stainless steel screw-in sensor
 integrated temperature measurement (PT100)
 optional accessory: thermostat for automatic temperature control of your sample
 evaluation electronics in compact table housing with LC Display
 EPSILON+ PC software for control and measurement evaluation included
Optional thermostat for automatic sample temperature control

We also offer different suitable thermostats, which can be controlled automatically by the EPSILON+ device and quickly set up whatever sample temperature you desire for measurement:
OMEGA dry thermostat (standard, as shown below): RT to 180°C
Julabo fluid thermostat with heat exchanger vessel for additional cooling: -20°C to 180°C


E is for enhancement.
You would like enhance your knowledge about the electrical behaviour of your oils and equipment?
We offer a compact and comprehensive system for dielectric analysis of your fluids.
Tech specs

Test standards

DIN EN 60247 (conforms partially); DIN EN 51 111 (pending)
Sensor
Dimensions sensor
D = 38 mm, H = 115 mm
Sample quantity
8 ml
Materials
Stainless steel, polyether ether ketone (PEEK), polyimide
Temperature measurement
PT 100, +/- 0,1°C deviation
Temperature range
-20°C to 180°C
Sample temperature control
electric thermostat optionally available (controlled by EPSILON+)
Measurement
Electrical conductivity - measuring range
0 nS/m to 600

μ

S/m
Electrical conductivity - resolution
0,02 nS/m
Specific resistivity - measuring range
1,6 M

Ω

*m to 50 G

Ω

*m
Relative permittivity - measuring range
1 to 10
Dielectric dissipation factor - measuring range
0 to 10.000
Dielectric dissipation factor - resolution
0,003
Measuring time
approx. 15 s
Accuracy
+/- 1%
Electronic unit

Power supply
110-240 VAC
Energy consumption
max. 30 W
Dimensions aluminum housing (WxHxD)
235 x 150 x 370 mm
Display
blue LCD, 4 x 16 digits
Data communication (PC)
RS-232 (adaptable to USB), EPSILON software for WINDOWS included
Get in touch.
EPSILON+ might be the right system for you?
Contact us today to get further information and your non-binding quote.
We're here to answer your questions.